I believe in two principles when it comes to jeans:
1) Wear them till they die
2) If you find a pair that fit you – buy them (within reason of course, I could never spend more than $150 on a pair of jeans)
For the longest time I had SO MUCH trouble finding jeans that fit me. They were either too tight at the thighs (I have VERY muscular thighs and quads) or too loose in the waist (I hate it when a jean pops out in the back).
Then I discovered Express jeans.
Their W2 cury fit was fantastic for my body! Well, they don't make that style anymore (sad-face) and the fit they replaced it with didn't work so well for me. But at the same time they introduced their editor pants! And let me tell you, the demin editor pants are THE BEST fitting pair of jeans I've ever worn.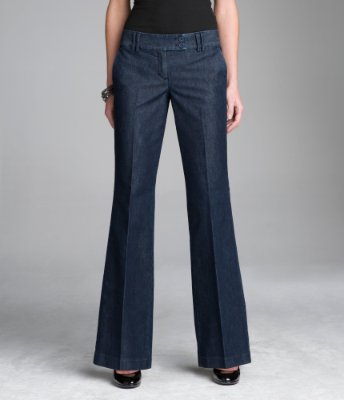 However, they're not cheap. A new pair costs $70. Which gives me a little heart attack every time I think about it because I don't like to spend more than $25 on a pair of jeans. So I only buy one at a time and follow rule number 1: wear it till it dies.
Well, it came to my attention this weekend as I was doing laundry that I don't own a single pair of jeans that don't have holes in the thighs.
All three pairs of my W2 Curvy jeans: Holes in thigh
My pair of Denim Editors: Hole in thigh
My old pair of random on sale Express jeans: Hole in thigh
So… it is time to buy a new pair.
Rather than chucking out $70 for a new pair – or using my $15 off coupon from Express (with the added temptation of using my Express credit card to pay for it) – I decided to look at eBay.
AND LOW AND BEHOLD! I found a NEW pair of my favorite Editor Denim pants in my size for $37 + 7 shipping. So for half the price I get the same pant. I bought them. I figured it was worth the risk to save myself $35 on the pants.
I also found another auction with a lot of 4 jeans, one of them including a button-less, used version of my Editor Denim pants for $6. I bid on that one. I have pants with buttons and holes. For $6 I can just put the button on my old pants onto my new pants. The shipping on this lot of 4 pants in my size is $20. So I should be able to get 5 pairs of jeans in my size, in a style that fits me, for the same price as one pair of the jeans in the store.
And the bright side is that is they don't fit I can always just put them back up on ebay and get some of my money back in the process. =D